"It is a happy talent to know how to play."-Ralph Waldo Emerson
I write to you from Austin, Texas after a week that has felt like a mini marathon… within a month of marathoning.
I took a quick trip to a very unusually rainy and chilly Los Angeles. I joined adidas and adidas women in a really awesome collaboration with an incredible national organization called Playworks.

The mission of Playworks focuses on harnessing the power of play to bring out the best in kids. They work with individual schools to revamp daily recess to be a safe place for all kids to participate, connect, and stay active in a way that supports everyone.

As a yoga teacher growing a business and a practice behind the mantra "Find What Feels Good" for all the ages, I immediately connected with their work.

It turns out that Playworks schools have 43% less bullying and have more students engaged in vigorous physical activity than before the program. Their structured vocabulary is simple but structured with a relentless focus on positive language… and FUN.

I spent the day learning their vocabulary and playing games with Playworks coaches, Jr coaches, and students at Jefferson Elementary this last Wednesday. I was honored to make eye contact, to give each and every 356 high fives, and to lead a little yoga at the end of the day for both the kids and the coaches, who I admire so much.

The coaches can't fake it. You have to say what you mean and mean what you say.
As someone who worked in an after school program called Creativity Club for many years, I know you can't phone it in. I also worked as a kids yoga teacher from toddler to teens, as a creative drama teacher at a pre-school, and as a Theatre Arts teacher at a private high school.
For all students, but especially for young people, you have to show up. Fully.

And, it's my experience that – you want to.
I always did, and still do.

Our young people need us. Particularly now as we live in the digital, more sedentary age of "You're over the line, Donny!" screen time.

And in a world of comparison and lack of confidence over self image, we have to look at all the important windows of precious time in which we can counter our culture and step in to support, lift, and help out.

Play.

After recess, instead of going back to class energized, happy, and ready to learn, kids are getting back to their learning environment upset, anxious, and unable to focus. 
Playworks is changing that, one day at a time, also training and inspiring other students. These are the "assistant coaches" who lead the group, their peers, and guide fun physical activity where everyone participates and relates in a positive inclusive way. 
As someone who receives request after request, email after email, and letter after letter for support and gentle assistance for self-confidence, weight gain, lack of energy, loneliness, addiction, depression, and anxiety – I am certain this work is important.
Here is a fun photo of me with my fellow adidas ambassadors, Angel Mccoughtry (Um, 2X Olympic Gold medalist) and Shavonte Zellous who both play for the WNBA. Talk about an inspiration for young girls in sport…

We were in the classroom on this day due to the crazy LA rain.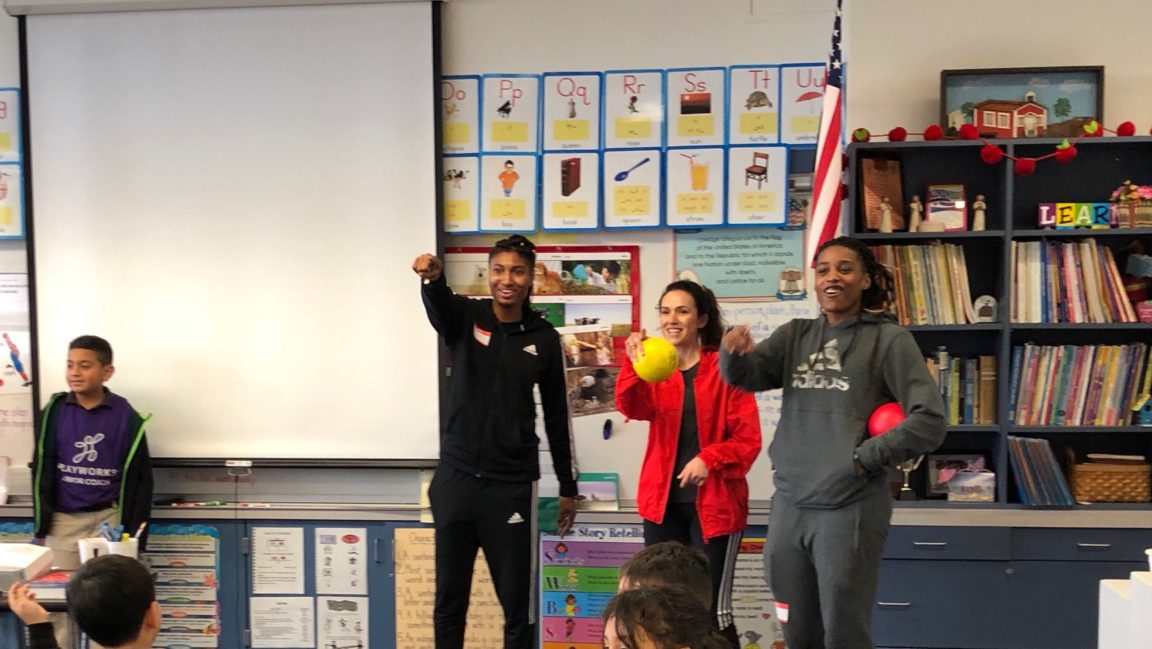 This year, my team and I plan to spend more time with children, more visits in schools (thank you for all the great responses last year) and in general – more energy focused on language, learning, and education.

For kids, yes.

But for all ages too.

It's never too late.
Make your decision and harness the power of play to get moving, use your voice, and Find What Feels Good.

I got your back.
I love YA!

PS: Dedicate, A 30 Day Yoga Journey is going strong! If you are interested in signing up, click here and dive in with Day 1 anytime. It's free, it's fun, and it's my favorite 30 Day Journey to date.