October Yoga Calendar and Playlists
#ywaMAGIC
Have you ever come to your mat feeling one way and stepped off the mat feeling transformed?
This month we celebrate the magic of a mindful yoga practice.
We welcome back a focus on breath and movement as medicine.
As the leaves fall and we shed old skin, we re-energize the mantra, "allow release and let go, " so that you can manifest that which serves.
It's easy to get swept away in to do lists, email, tasks upon tasks. This month's free yoga calendar is designed to motivate you to prioritize some time for yourself on the mat each day.
Taking time to practice mindfully will change the way you move (and get stuff done!) all day long.
Like, magic.
Alternatively, some of these practices are designed to help you focus on your breath, direct your energy and remember that what is happening outside of you can be a reflection of what is happening inside of you.
This month, we clear the slate, set new intentions and set out to reveal the magic within – just by showing up.
See you on the mat!
Love,
Adriene
Here's what else you need to know:
There is a free YouTube playlist on the channel. You can save the calendar and check off each day as you go or you can follow along with the playlist. The new videos on Sundays will be released at 1 AM PST and then will be added to the playlist by 8 AM Austin time.
There is also a FWFG Yoga Membership playlist. Members can access the monthly playlist on their FWFG Yoga app or on the membership site. New videos will be added to the playlist when they are released.
Practice along with the calendar every day, or drop in throughout the month. Do what feels right for you.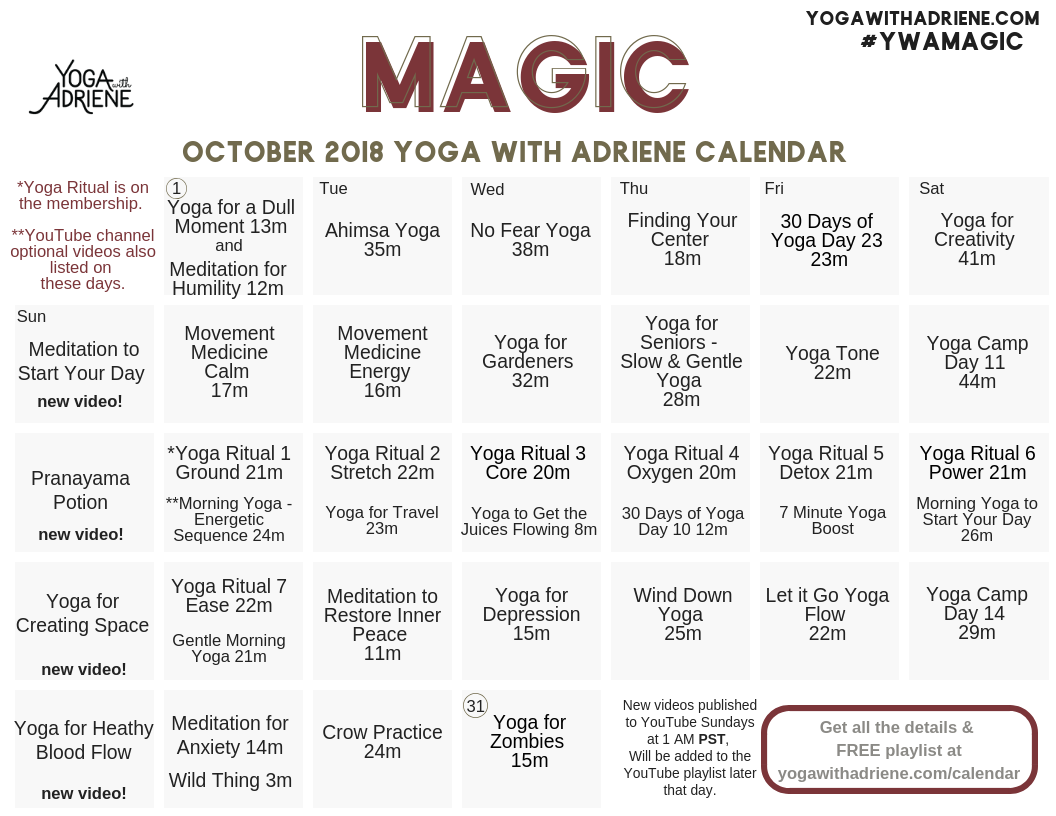 Click on the calendar to download, save, or print it out.
Previous 2018 Yoga Calendars
January – TRUE
February – LOVE YO' SELF
March – FRESH
April – RESPECT
May – MANIFEST
June – CATCH A WAVE
July – CENTER
August – CREATIVITY
September – CONNECT
October – MAGIC