February is coming in hot and we have a fresh new FREE yoga calendar for you to follow!
Coming off the month of TRUE we are diving into self care rituals that remind you how beautiful the journey can be when you choose to LOVE YO' SELF. 
TRUE will stay up year round for those to start and finish at their own pace. We will also be keeping the spirit alive by inviting you to practice a True video with us every Tuesday. All year long. Something we are lovingly referring to as TRUEsdays.
On Feb 8-10th, the Find What Feels Good community will be doing the YWA Self Care Package from the FWFG Yoga Membership! This is a three video series that includes Yoga for Self Love, Yoga for Self Worth, and Yoga for Self Confidence.
Here's what you need to know:
There will be a YouTube playlist on the channel. You can print out the calendar and check off each day as you go or you can follow along with the playlist. The new videos on Sundays in February will be released at 12 AM PST and then will be added to the playlist closer to breakfast time in Austin. 😉
There will also be a FWFG Yoga Membership playlist. This will included the videos for each day like the YT playlist and will include the Yoga Care Package for Feb 8-10th.
There are no links on the calendar this year for each day's video. Instead all you have to do is hit up the YouTube playlist or the FWFG Yoga membership playlist and press Play.
FWFG Yoga Membership playlist click here.
In every end is a new beginning.
Carve out time and space for your daily practice. Show up, breathe deep, and then watch the world meet you and greet you with support, with humor, and with great, great love.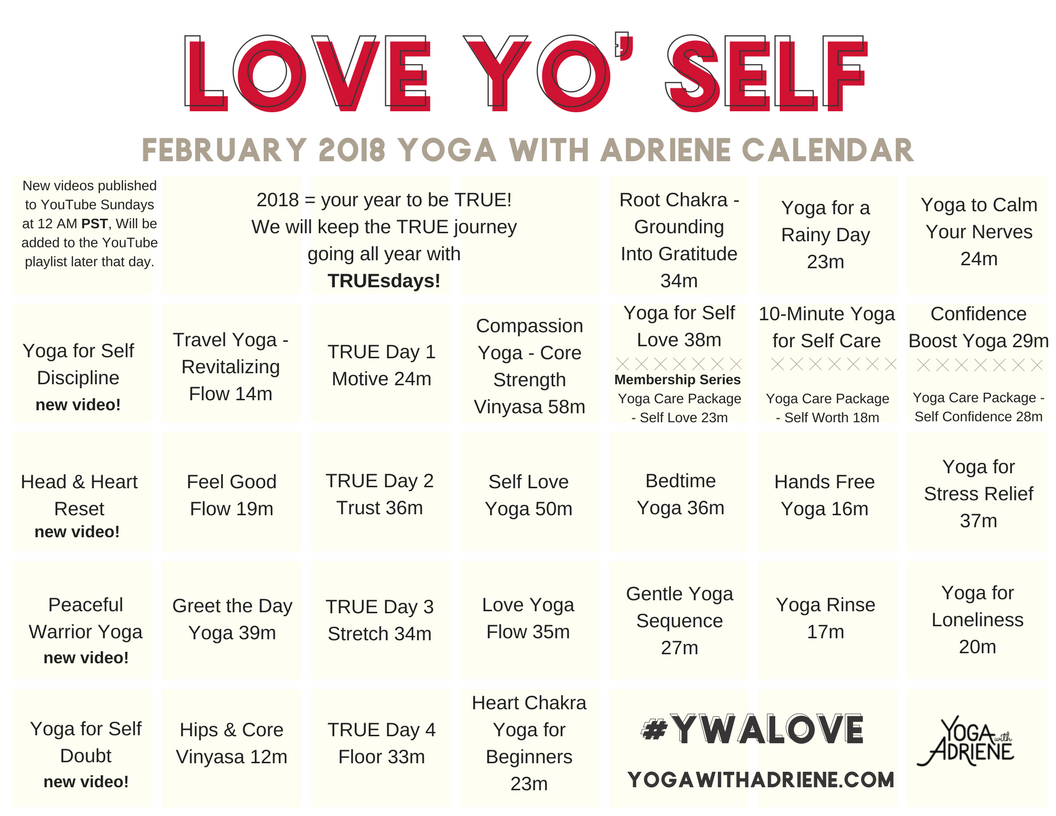 Click on the calendar to download, save, or print it out.