Anchored in Love Live – 2/6 
The anchor is the oldest symbol of hope. Please join me for this special 75 min practice designed to lovingly bring an awareness of stability and strength to the body, the mind, and the heart space.
Mark your calendar, reserve your spot ahead of time, and wear something comfy. Everything is more fun with friends, so invite someone to join you to Anchor In Love on Saturday, February 6th.
11am CT. (9am PT, 10am MT, 12pm ET, 5pm BT)
Reserve your spot via sliding scale donation. You will receive instructions on how to join the class upon registration. This class is a live session with no recording or repost to follow.
Donations collected for this practice will go to support our teachers, as well as help keep our space during this time.
Reserve your spot! Get tickets!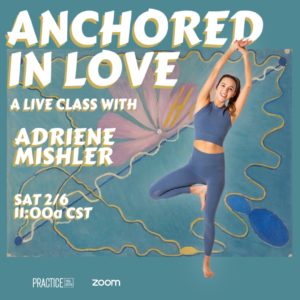 ---
International Yoga Day Livestream
On June 20th, we met on the mat to celebrate the solstice and the principle of unity. 
This 1 hour practice is still available for those who could not attend live. This is a free practice with invitation to donate $1 or more to support childhood cancer research and care.
All ages, all types welcome, no yoga experience necessary. All donations collected will go directly to the children of St. Jude.
Join the practice HERE!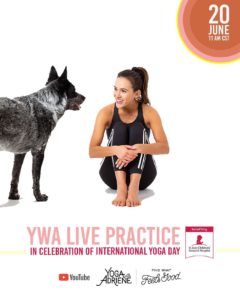 ---
FWFG + Fluenz  – Mexico City
Our Yoga & Spanish Journey is one of a kind.
Join teachers Adriene Mishler and Sonia Gil for six days of yoga, meditation, Spanish learning, culture, and the ultimate foodie experience with an intimate group of 23 participants.
CLICK HERE for updates!