June 2018 Yoga with Adriene Yoga Calendar
Ready to CATCH A WAVE?
#ywaFLOW
This month's YWA Calendar guides to you create a healthy flow of energy in the body so you can look good and FEEL good! Cultivating healthy energy flow, or prana, is a must for those seeking total mind and body health. It is also a process that goes way beyond the yoga mat.
A balanced energy state is vital if you are interested in living your full potential. These sessions are also ideal for those seeking to feel good and FIT without breaking the self love bank.
Do all 30 Days or drop in for a free session when you can! Remember, any amount of showing up on your mat will provide results!
Dig in and use this time to connect and gain a closer relationship to the energetic body. Get close and move with intention.
Fill your tank, CATCH A WAVE and let's FLOW.
Download it or save the picture. Invite a friend or loved one to join you for the month.
On three of the Fridays, you will notice 2 practices listed with an "or" between them. The practices listed first on these days with the *asterisk are member only videos on the FWFG Yoga membership site. The second videos listed on those days are practices from the YouTube channel for those who are not members yet. 
Here's what else you need to know:
There is a YouTube playlist on the channel. You can save the calendar and check off each day as you go or you can follow along with the playlist. The new videos on Sundays will be released at 1 AM PST and then will be added to the playlist closer to breakfast time in Austin. 😉
There is also a FWFG Yoga Membership playlist. This will include the videos for each day like the YT playlist and will include the member only videos.
Practice along with the calendar every day, or drop in throughout the month. Do what feels right for you.
And we are still doing TRUEsdays all year long! We hope you're enjoying returning to TRUE every Tuesday too and keeping that TRUE spirit alive.
You ready to catch a wave? Let's FLOW!
#ywaFLOW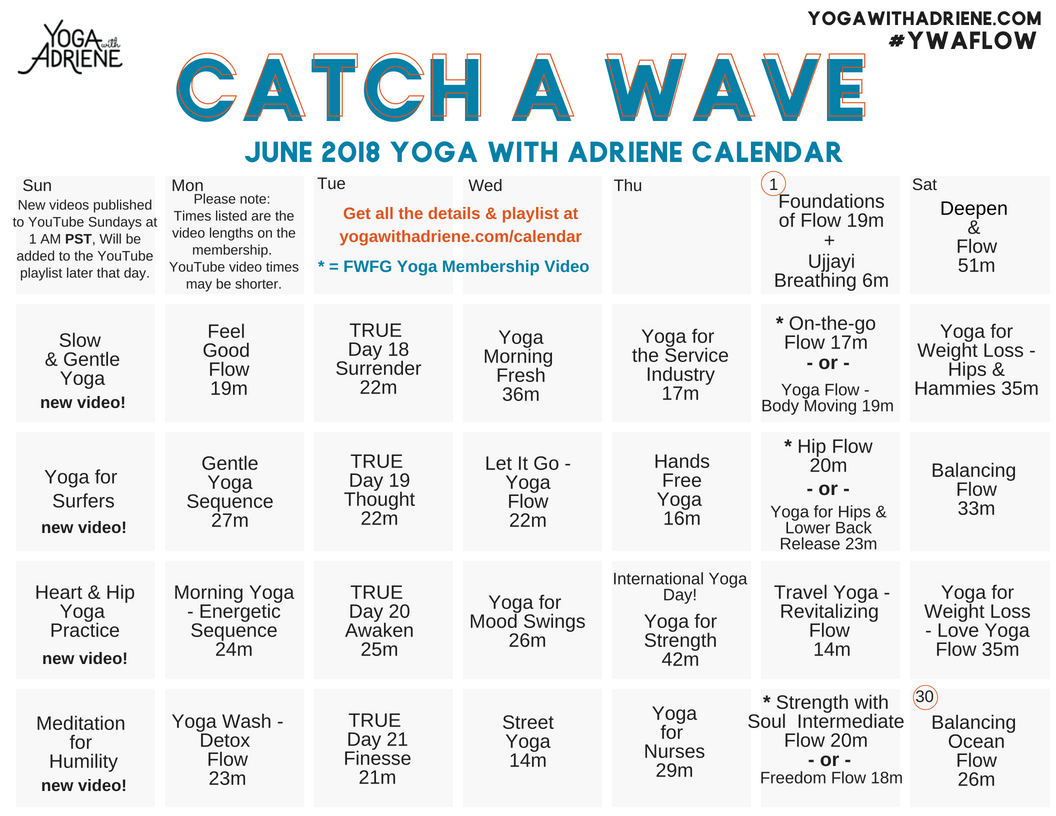 Click on the calendar to download, save, or print it out.