March 2018 Yoga with Adriene Yoga Calendar
February flew by and March is already creeping in with hints, no, promises of a fresh new energy!
Here it is: your MARCH YOGA CALENDAR!
March brings practices that help us flush out that which no longer serves so that you have the energy you need to accomplish and serve.
Download it, print it, do yo' thang.
Your playlists for the month on the membership and on YouTube are up and there are links to both at the bottom of this page.
TRUE will stay up year round for those to start and finish at their own pace. We will also be keeping the spirit alive by inviting you to practice a True video with us every Tuesday. All year long. Something we are lovingly referring to as TRUEsdays.
On March 5-11th, the Find What Feels Good community will be doing the RISE : Morning Yoga series from the FWFG Yoga Membership! This is a 7 day video series. If you aren't a member yet, you know we've got your back. 😉 On the calendar for Mar 5-11th, you will see alternate morning practices from the YouTube channel.
Here's what you need to know:
There will be a YouTube playlist on the channel. You can print out the calendar and check off each day as you go or you can follow along with the playlist. The new videos on Sundays in March will be released at 1 AM PST and then will be added to the playlist closer to breakfast time in Austin. 😉
There will also be a FWFG Yoga Membership playlist. This will included the videos for each day like the YT playlist and will include the RISE : Morning Yoga series videos for March 5-11th.
There are no links on the calendar this year for each day's video. Instead all you have to do is hit up the YouTube playlist or the FWFG Yoga membership playlist and press Play.
FWFG Yoga Membership playlist click here.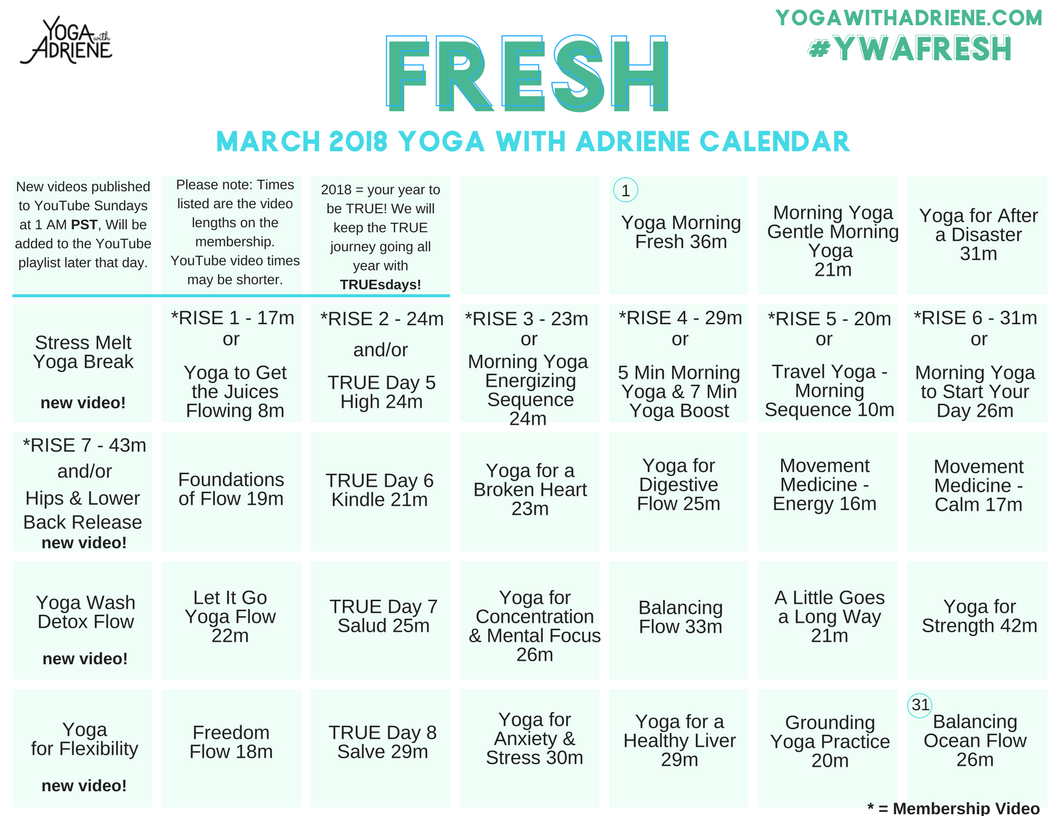 Click on the calendar to download, save, or print it out.